Sheffield Telegraph Tuesday 15 December 2020
'Tis the season to be jolly, and Sheffield Philharmonic Chorus are determined that this year will be no different.  To ensure their customary seasonal cheer endures, they have had to be rather inventive, since their usual joyous concert with over two-hundred musicians on stage and thousand-strong audiences at Sheffield's City Hall, would certainly not comply with the current social distancing guidelines.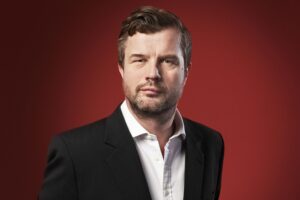 "When I was asked to present the Chorus's Christmas Carol Concert this December, I admit, I was rather surprised, especially when I heard it would still include over a hundred voices and the full Black Dyke Band", explained the choir's new Patron Petroc Trelawny. One of the best known voices on BBC Radio 3 and with over 17 years introducing the BBC Proms, Petroc joined as a Patron earlier in the year, and had been due to present the choir's annual carol concert at the City Hall, now abandoned due to coronavirus restrictions. 'The choir's carol concert in Sheffield has kicked-off my Christmas for a few years now, and I'm absolutely delighted to become their Patron – and to be able to join in the festivities again by recording a contribution from home'.
Like so many musicians, Chorus members and the Black Dyke Band have had to get to grips with technology, and were tasked by the choir's Music Director, Darius Battiwalla, to record themselves singing and playing, so a virtual choir and band could be created.  It's obviously taken a bit of getting used to, but they do seem to have risen to the challenge remarkably well. 
Discussing the singers, "It's actually rather fitting now I think about it" remarked Petroc. As presenter for the concert, he was particularly talking about one of the pieces specially commissioned for the choir's first YouTube broadcast – a new version of the 16th century carol Resonet in Laudibus, arranged for brass band and chorus by Darius.  "In past centuries, people would have gathered in kitchens and round fireplaces to make music together, singing festive carols during dark evenings, so 2020 is just a high-tech version of some of the old traditions". 
"We are absolutely thrilled that Petroc is now to be one of our Patrons.  As a prominent radio presenter of great experience, I'm sure a good number of us could have done with a few tips about recording techniques" quipped Rachel Copley, President of the Chorus, rather dryly. "But more seriously, this year, more than ever, we need to ensure we bring light and joy into people's homes.  We've all been keen to take on the steep learning curve needed to ensure we can still present quality music now, and be ready to perform again live when we all come back together in 2021."
Link to article in the Sheffield Telegraph Tuesday 15 December 2020