Sheffield Philharmonic Chorus was proud to join Halifax Choral Society in recording Philip Wilby's new oratorio The Holy Face. This musical retelling of the life of St John was commissioned by Halifax Choral Society and their conductor John Pryce-Jones to celebrate their 200th Anniversary in 2017.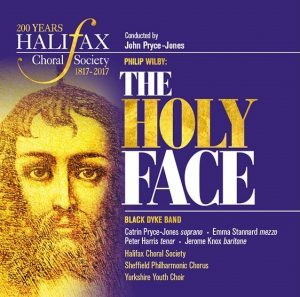 The work is an Oratorio in the English tradition, using four soloists, a fulsome accompaniment for organ and either orchestra or brass band, and providing a significant role for a large chorus and a youth choir. It tells the story of John the Baptist, who is the patron saint of Halifax, and is richly textured and dramatic in scope.
The recording features the two choirs accompanied by the world-famous Black Dyke Band and featuring the Yorkshire Youth Choir. Philip Wilby, who was born in Pontefract, is thrilled that his oratorio has been performed and recorded by Yorkshire musicians.
Copies of the CD are available from Halifax Choral Society, priced £15.