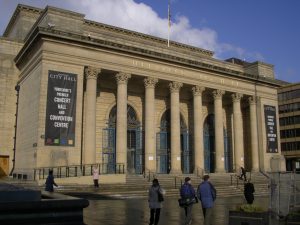 'Outstanding', 'gripping', 'rousing' – just some of the superlatives used by critics to describe Chorus performances in the last two seasons, over which we presented concerts in Halifax, Manchester, Edinburgh, Middlesbrough, France,  Germany and Sheffield. We sang with the Manchester Camerata, Royal Northern Sinfonia, Bruckner Orchester Linz, acclaimed organist Jonathan Scott on harmonium, three other Yorkshire choirs, two from France and one from Germany, and of course with the world famous Black Dyke Band. Last season we presented little-known works by women composers, a challenging work by Schoenberg, Philip Wilby's new oratorio The Holy Face, as well as Bach's monumental B Minor Mass, and choral favourite Messiah in Sheffield's twin town of Bochum in Germany.
2019-20
It is with deep regret that we announce the postponement or cancellation of the remaining concerts for this season, due to the need to protect our members, musicians and audiences and in light of Government advice regarding the Coronavirus. We will post information about the rescheduled concerts as soon as we are able. 
The coming season looks to be just as exciting, with a concert in the Bridgewater Hall and another visit to Bochum in Germany, in addition to the concerts in Sheffield, which will include a performance of Verdi's magnificent Requiem.
Attending a concert is one of the best ways of supporting the Chorus, so browse through the schedule and follow the links to find out more and book your tickets.
Saturday 9 November 2019, After Hours concert, Sheffield City Hall
Sunday 8 December 2019, Christmas concert in Bochum, Germany.
Saturday 14th December 2019 2pm and 5.30pm: Christmas Concerts, Sheffield City Hall
Saturday 18 April 2020 7pm: Messiah with Black Dyke Band plus visitors from Bochum and Perigueux choirs. Sheffield Cathedral

CONCERT POSTPONED UNTIL 2022

Saturday 2nd May 2020 7pm: Verdi's Requiem with Halle orchestra, Sheffield City Hall.

CONCERT CANCELLED

Saturday 20 June 2020: Mahler 8 with Wrexham Symphony Orchestra, Bridgewater Hall, Manchester

CONCERT POSTPONED
New to classical concerts in Sheffield?
Sheffield is a very friendly city and classical concert-going tends to be easy and relaxed. Wear anything that you feel comfortable in. Some people dress up because they are attending the concert as a special celebration; others go in jeans and T-shirt – anything goes! However, to make sure everyone has a great evening, please
turn your mobile phone completely off before the concert begins
don't video or record any part of the performance
don't smoke anywhere in the building
arrive in good time; if you are late you may have to wait outside the hall for a while to make sure audience members aren't disturbed, so you might miss part of the concert.
Before each concert  at the City Hall (except the Christmas carol concerts), BBC Broadcaster Trisha Cooper invites the conductor, soloist, or musicians connected with the concert to chat about their lives and music. This informal talk offers a delightful look behind the scenes at the professional and private passions of the performers, with a chance for the audience to ask questions.
There is usually a fifteen or twenty minute interval about half way through the concert, and there is a programme that provides lots of information about the music and the performers.
Go to next page: Current Season