Organised by Sheffield Philharmonic Chorus
in association with Classical Sheffield
The closing date for this competition was 31st December 2022, and the winners announced in February 2023.
Sheffield Philharmonic Chorus and Classical Sheffield seek submissions from composers in the early stages of their careers for the Stella Jockel Young Composers Competition, part of Classical Sheffield Festival Weekend 2023.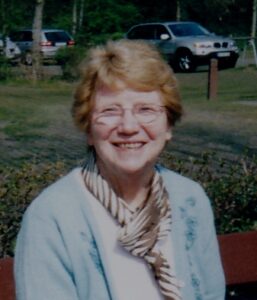 The competition commemorates Stella Jockel, a former Sheffield teacher and vicar's wife who sang alto with Sheffield Philharmonic Chorus for many years. Part of Stella's generous legacy to the Chorus is being used to fund the competition. The aim is to support the creation and performance of new choral repertoire and to encourage and support young people from Sheffield who are studying seriously for, or starting out on, a career in music composition and/or performance. The competition is open to young people aged 18 to 35, who currently live or study in Sheffield, or who lived, were born, or were educated there. The requirement is for a short choral work for a mixed symphonic choir (around 200 singers), to be sung unaccompanied in at least four parts – soprano, alto, tenor, bass.
The text has been commissioned from award-winning poet Katharine Towers, who won the Seamus Heaney Centre Prize for The Floating Man and was shortlisted for the TS Eliot Prize for The Remedies.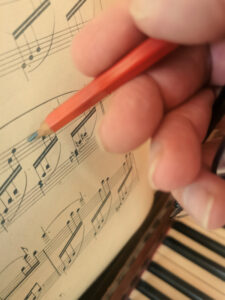 The winning work will be performed at a special prize-winning event on the final evening of the Classical Sheffield Weekend Festival, Sunday 19 March 2023.
This will be part of the festival finale event which is a performance of Mahler's magnificent 2nd symphony by Sheffield Philharmonic Orchestra, Hallam Sinfonia, Sheffield Philharmonic Chorus and
Hallam Choral Society, all members of Classical Sheffield, at Sheffield City Hall. The performance and presentation of prizes will form the first half of this event which will bring the 10th anniversary festival to a spectacular close.
George Nicholson, Emeritus Professor of Composition at the University of Sheffield, has agreed to head the panel of judges, which includes the Music Directors from each of the two choirs and from Sheffield Philharmonic Orchestra. The winning entries will be announced in January 2023.
The closing date is 31 December 2022.
Prizes
1st prize: £1,500. Performance of the winning work by Sheffield Philharmonic Chorus and Hallam Choral Society at the Classical Sheffield Festival Weekend finale concert at Sheffield City Hall on Sunday 19 March 2023. Four free tickets for the Mahler 2 concert at the City Hall.
2nd prize: £1,000. Four free tickets for the Mahler 2 concert at the City Hall
3rd prize: £500. Two free tickets for the Mahler 2 concert at the City Hall.
Judges
George Nicholson, Emeritus Professor of Composition, University of Sheffield
Darius Battiwalla, Music Director Sheffield Philharmonic Chorus
George Morton, Music Director of Sheffield Philharmonic Orchestra
Clara Rundell, Music Director of Hallam Choral Society
Deadline: 31 December 2022
Eligibility
The competition is open to young musicians aged between 18 and 35 inclusive, who were born in Sheffield or who study, live or work, or who used to study, live or work in Sheffield.
Composition brief
An original choral work for a large mixed choir of around 200 singers to sing a capella in at least 4 parts (SATB).
Duration at least 4 minutes and under 10 minutes.
Text to be used is 'Sheffield Nocturne' © 2022 Katharine Towers
Works must be original, not premiered and not previously awarded before at any other competition.
Arranged or adapted versions of previous works by the same composer and which have been already released or published won't be accepted.
Application requirements
Original choral score, to be sent as a pdf file. Each composition must be submitted with numbered pages. They must be legible, clear, without mistakes or amendments. The score must not be marked with the composer's name, or in any way that would enable the composer to be identified. A piano reduction may be included and would be useful but is not essential.
Completed application form (download from www.sheffieldphil.org/youngcomposer)
250-word maximum biography in DOC or PDF format
Photograph (jpeg or tif file)
Competition rules
 Submissions must meet the listed Composition Brief and Application Requirements.
Materials will not be returned.
The composition will be the property of the composer; however, first performance rights are granted to Sheffield Philharmonic Chorus and Hallam Choral Society.
Applicants waive all rights for publication, broadcasting, and recording of the premiere performance.
The decisions of the judges are final.
The judges reserve the right not to award one or more prizes if the standard is not sufficiently high, commensurate with the value of the prizes.
Applicants must only use the text 'Sheffield Nocturne' © 2022 Katherine Towers; this poem is copyright and may not be used for any other purpose.
A condition of entry is that submitted biographies and photographs may be used in the publication of shortlisted applicants.
The judges, Sheffield Philharmonic Chorus, Hallam Choral Society, Classical Sheffield and Sheffield City Hall cannot be held responsible for any damages, claims, liabilities, and costs, or losses of any kind or nature whatsoever, which may in any way arise from the rehearsals, performance and recording of the competition entries.
Applicants accept the above rules unconditionally and without reservation.
Notification
Prize-winners will be announced to the public on 19 March 2023. Shortlisted candidates will be publicised in the new year, and prize-winners notified by the end of January 2023. Unsuccessful applicants will be provided with brief feedback.