Alto Jo Briddock's fantasty concert would have to include Brahms Requiem. Jo says "The musical forces would preferably be the BBC Philharmonic conducted by Ewa Strusinska – one of only a handful of leading female conductors. As one of the least 'religious' choral requiems it appeals because it is a work of human consolation for those left behind and has less of the fire and brimstone of judgement day featured in some other requiems.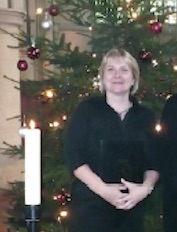 "Although I love singing Verdi's Requiem too! As a singer I love it because it has just about everything including; well-known sections, hidden treasures, quiet calm moments and a monumental fugue that shouldn't work but somehow just does! As an alto, I love it because there are great lines and harmonies for us to sing. And as a music lover, the sumptuous orchestration has me hooked from the opening bars."
Read about how Steve Terry, 1st Bass with the Chorus, donned his 'executive producer' hat for his own fantasy concert in December 2013. Or how Steve inspired Julie Smethurst to realise her personal dream a few years later.
What's your fantasy concert? If you have an occasion that you'd love to celebrate by supporting us to bring your fantasy concert to life, contact us now at