The audition is as relaxed as such an event can be!
The audition is led by our accompanist who will be keen to put you at your ease. You will warm up by singing a few scales, which enables our Music Director to determine the range of your voice. Next you will be asked to sing extracts of music of the Music Director's choosing from the work we have recently been rehearsing, to check how well the learning process is going. It is therefore useful to have attended several rehearsals before having an audition.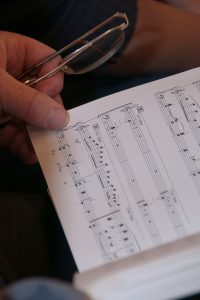 You will also be asked to sing a few bars of music at sight, testing for both rhythm and pitch. You're not expected to get it completely right, and our Music Director does allow for nervousness. Sometimes if sight-reading is not quite up to the required standard he will try to determine how quickly you can pick things up by ear, as this can compensate a little.
We understand that you may feel nervous about the audition, but remember that we want new members and are not wanting to catch people out or fail them. An audition is the normal way for a Music Director to assess the standard of your singing and to see if our chorus is right for you. We try to make the audition fairly short and as relaxed as possible.
By passing an audition, the choir's high standards are maintained and you will hopefully enjoy singing with an excellent chorus!