In 1911 Sheffield Musical Union, the choir that became the Sheffield Philharmonic Chorus, went on a remarkable world tour with a number of other Yorkshire choirs, covering 34,000 miles and giving 134 concerts in Canada, The United States, Fiji, Australia, New Zealand, Tasmania and South Africa.
This unique event is documented in a book by Dr. Christopher Wiltshire using letters written by young soprano May Midgley to her family back in England. The book '12 Oak Avenue – the letters of  May Midgely 1911' was featured in the Yorkshire Post on 28 July 2018 and in the Sheffield Telegraph in May 2019 and can be purchased from Chris using the email listed below.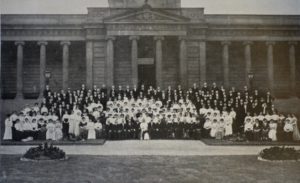 May's lively, action-packed letters have only recently been discovered, and they throw a new light on this unique and exciting event. Her first letter, written in March 1911 after docking in Canada, gives a flavour of May's down-to-earth account of this unique event:
"On Saturday morning nearly everybody was ill… Miss Jowett has been the worst in our cabin, she has been awfully bad… Mrs Bell looks just like a corpse… Isabel crawls about just like a little old woman… Hilda and I simply daren't get up, the boat rocked so – we heard terrible crashes of crockery…"
'Whether flirting with Sir Edward Elgar, castigating Leopold Stokowski, or commenting on the performances of the soloists and orchestras, May demonstrates a shrewd, lively intelligent mind.' says Chris. 'She writes in an entertaining manner about all aspects of the tour: sight-seeing in North America, meeting relatives and fellow-Bradfordians in the Antipodes and South Africa, becoming deck quoits champion, Government House balls, rehearsals and one hundred and thirty concerts.'
May was obviously highly valued by the choir's conductor, Henry Coward, and her letters provide an irreplaceable window on the tour that are as unique as the event itself.
The book costs £6.50 (free postage and packing) and may be purchased by calling into The Sheffield Scene in the city centre, The Famous Sheffield Shop on Ecclesall Road, or by post by contacting the author at .
About the author
Christopher Wiltshire's career has been as varied as it is long. Twice winner of the Royal Philharmonic Society's Composer's Award at the Royal Academy of Music, composition played an important part in his work in education as well as in the theatre. Composing for plays and pantomimes at the Sheffield Crucible led to work as repetiteur, coach and musical director including conducting the European premiere of Chicago. For many years he conducted the award-winning Sheffield Chamber Orchestra. Throughout much of his life Chris examined world-wide for Trinity College and was one of the busiest festival adjudicators in the UK. Conducting Felling (Tyneside) Male Voice Choir plus composing and arranging for a variety of similar choirs resulted in a PhD at London University on the history of male choirs.