"How did you join the Phil?" Ann Holloway (first soprano)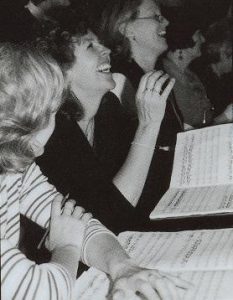 "To everyone who's ever thought that they'd love to sing with a large classical chorus but felt that their sight reading skills would let them down, take heart, there is hope.
"The only musical training I had was in the first year of secondary school when we learnt the value of notes and that Every Good Boy Deserves Favour and All Cows Eat Grass etc. I did however continue to sing in the church choir and the school choir and always found it easy to learn tunes by ear.
"I went for some singing lessons 5 years ago, mainly to improve my confidence. I had always sung alto but my singing teacher told me that I was a soprano and took me to heights that I'd only previously dreamed of. I thought that maybe I could join a 'proper' choir and sing some classical stuff — if I could pick up the 'tunes' I could then follow the musical scores.
"I set my sights on the Sheffield Philharmonic Chorus. Just before Christmas 2007 I turned up to one of their rehearsals and was hooked straight away. I came to rehearsals for about a month and then one day I put my name forward for an audition.
"I can remember waiting in the foyer for my turn and feeling so scared and thinking 'who am I kidding'? As I was taken through the scales I calmed down a bit and then I had to sing two pieces from The Messiah which I knew already so that was OK. Then I was asked to do two small pieces of sight reading. One was about timing and one about melody. I stumbled my way through these and I knew I hadn't got them totally correct, but I was told that I was in! I went home in a daze. I was actually a member of the Sheffield Philharmonic Chorus.
"I have been in the Chorus for nearly a year now and my sight reading has improved tremendously. There are always good sight readers around you and that helps you pick up your line, timing and dynamics. I also try to learn the works by listening to recordings at home. Once I have the tune it is so much easier to follow the score. There are also rehearsal CDs available online and these are great because they 'plonk out' your own part on a piano so that you can learn it at your own pace and see how it fits in with the other parts. There are so many ways in which you can help yourself and the rewards far outweigh the hard work.
"Since I have been in the Chorus I have sung in two semi-choruses and even had a little solo which makes me feel like a very valued member even with all my shortcomings.
"The 'buzz' that you get from singing with a large Chorus with the likes of the Hallé and BBC Philharmonic Orchestras is amazing and there are lots of social activities too.
"Basically, if I can do it anyone can, so don't wait any longer, come along to one of our rehearsals on Tuesday night and have a go."