It is with deep regret that we announce the postponement of all three of the remaining concerts for this season, due to the need to protect our members, musicians and audiences and in light of Government advice regarding the Coronavirus.
We have also cancelled all rehearsals for the time being. If you are interested in joining us when things get back to normal, please feel free to contact our New Members Officer as listed below; we will add you to our new members list and let you know when rehearsals re-commence. 
If you share our passion for singing, and want to enjoy singing with some of Britain's leading orchestras under the baton of internationally acclaimed conductors, find out more about how you can join us now! Check our Current Season to see what amazing music you could be singing with us!
Why not come along and join the chorus?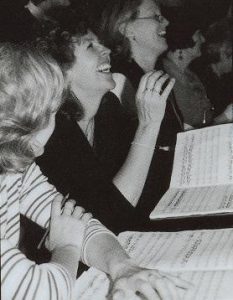 We have a passion for singing and aim to be inclusive. The chorus is always pleased to welcome new members in all voice parts, and we regularly run workshops for those who need support with reading music. Follow the links below for more information on how to join us.
We know that singing makes us feel great but now research shows how singing, like other creative activities, can actually improve your health and wellbeing. Science is also discovering how singing can treat illnesses from asthma to Parkinson's, including helping to prevent colds and flu.
If you'd like to try us out, simply come along to one of our rehearsals. Find out more about rehearsals here. Contact Sally Turnbull for more details on 0143 363 0970 or 07771 578233, or email .  Sing with us for a few weeks and if you decide you'd like to join, you'll be invited for a brief audition. Read more about auditions here.
When?
We rehearse on Tuesday evenings from 7 to 9pm, from September through to July. Find out more on the rehearsals page.
Where?
We rehearse at King Edward VII Upper School, Glossop Road, Sheffield, S10 2PW.  Follow this link to the school's website.
Access by car – There are two vehicle access points, from Newbould Lane and from Glossop Road.
There is car parking on site; however as the Language College part of KES is also open on Tuesday evening, there will be competition for places. As the classes start after us, early arrivals should be OK; places for non-disabled drivers cannot be guaranteed of course. There is substantial street parking on Clarkhouse Rd. and other streets nearby after 6.30. Disabled access using ramps and a lift is from the town end of the site off Glossop Rd.
Access on foot / by Bus – There are numerous bus services stopping at the bus stops on the roads surrounding the school (Glossop Road, Newbould Lane and Clarkhouse Rd) and a lot of services. For details of bus routes, please go to: www.travelsouthyorkshire.com. In addition to the access points from Newbould Lane and from Glossop Road, there is pedestrian access from the city end of Clarkehouse Rd.