Tuesday 20 October 2020
The CD recorded by the Chorus with Black Dyke Band has reached the Number One spot in the Classic FM Specialist Classical Albums charts, outselling recordings by Simon Rattle and the London Symphony Orchestra, the Halle, the Sixteen and the BBC Philharmonic Orchestra.
Friday's @officialcharts #SCTop30 🎉

🔹#3 @blackdyke @SheffPhilChorus @naxosrecords
🔹#14 @the_halle
🔹#18 @ChandosRecords @JenniferPikeVLN
🔹#24 @SinfoniaOfLondn
🔹#25 @TheSixteen
🔹#26 @VasariSingers
🔹#28 @hyperionrecords @mozartplayers
🔹#29 @BIS_records
🔹#30 @HewittJSB pic.twitter.com/u2BfrneXeY

— Naxos UK (@naxos_uk) October 24, 2020
The Chorus recorded the new Naxos CD release of music by composer John Rutter with the world-famous Black Dyke Band one chilly October evening last year, in St Oswald's Church on Bannerdale Road in Sheffield. Directed by Prof Nicholas Childs and Chorus Music Director Darius Battiwalla, the CD Anthems, Hymns and Gloria for Brass Band was recently featured as Album of the Week on the Classic FM radio station. The impact on sales from around the world was immediate, and the CD rapidly moved up the chart over the following week.
'We joined the band to record Rutter's concert work 'Gloria', which was commissioned in 1974 by The Voices of Mel Olsen in Omaha, Nebraska, when Rutter was making his first trip to the United States.' explained Chorus Chair Paul Henstridge. 'We love collaborating with this amazing band of consummate musicians, who join us for the annual carol concert in the City Hall each year. We had a wonderful evening at St Oswald's and are absolutely delighted that it has led to an Album of the Week and the Number One slot!'
The CD features eleven tracks composed by Rutter and arranged for brass band by Belgian conductor Luc Vertommen. It includes many of the English choral composer's most famous works, including the Pie Jesu from his 1985 Requiem, and This is the Day composed for the wedding of HRH Prince William and Kate Middleton in 2011.
The Chorus has collaborated with the Black Dyke Band on numerous occasions, including two world premieres, Philip Wilby's oratorio Holy Face with Leeds Philharmonic Chorus in 2017 and Paul Mealor's beautiful Paradise in 2018. Joint recordings include Wilby's Holy Face and Awake Arise, a Christmas CD full of festive music from Yorkshire. Chorus Music Director and Leeds City Organist Darius Battiwalla is no stranger to brass band music, regularly composing and arranging works for brass and chorus.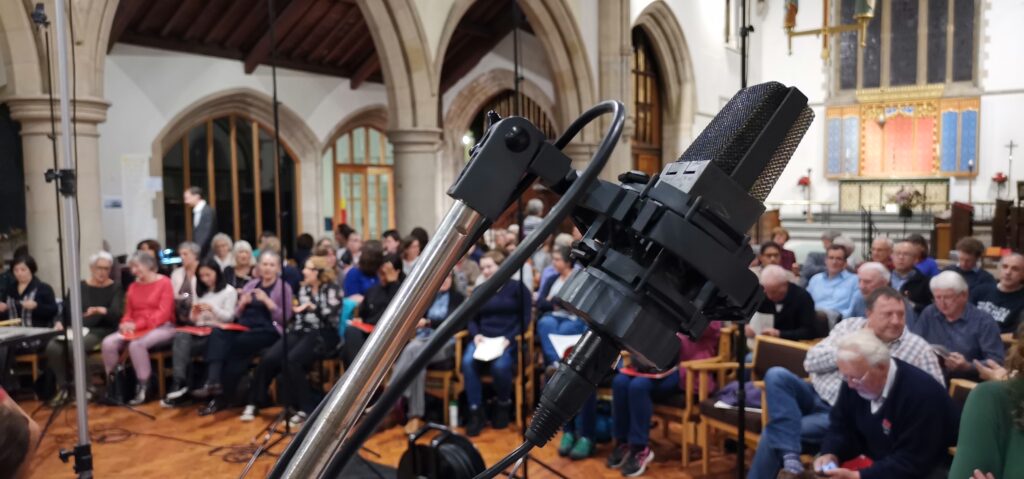 'Darius most recently arranged two pieces for brass band and chorus during the coronavirus lock-down' said Chorus Administrator Anne Adams, 'One is an beautiful soprano aria from Handel's Messiah, which we were planning to present with Black Dyke in Sheffield cathedral but sadly had to postpone, and the other is a 16th Century German carol which we and Black Dyke are going to record from our homes as part of a virtual Christmas carol concert in December.'
Chorus and band hope to present the brass Messiah in 2021, alongside choirs from France and Germany, and the Chorus is still hoping to be able to present Rachmaninov's Vespers and Faure's Requiem at the City Hall in May and June 2021.
In the meantime you can hear the new arrangement of Handel's 'How Beautiful are the Feet' on the Chorus website at sheffieldphil.org / records-and-books / how-beautiful-are-the-feet , you can buy our buy our Christmas CD – and of course you can help to keep the John Rutter Anthems CD at the top of the charts by buying it from the Black Dyke Band website at www.blackdykeshop.co.uk