Sheffield Telegraph, Thursday 2 November 2019
Sheffield Philharmonic Chorus is thrilled to be able to pass on a gift from the people of Bochum to the city of Sheffield. A large framed photograph of Bochum's City Hall will be presented to Lord Mayor Tony Dowling at the choir's next concert on Saturday 9 November 2019.
'We were given the picture during our trip to sing with Bochum's City choir in their brand new concert hall, when we presented greetings from Sheffield's Lord Mayor.' explained Chorus Chair Paul Henstridge, 'Bochum takes the twinning arrangement with Sheffield very seriously and even helped to pay for our trip. We are delighted that our Lord Mayor and Lady Mayoress are able to receive the picture on behalf of the city – and that they will stay to hear us sing.'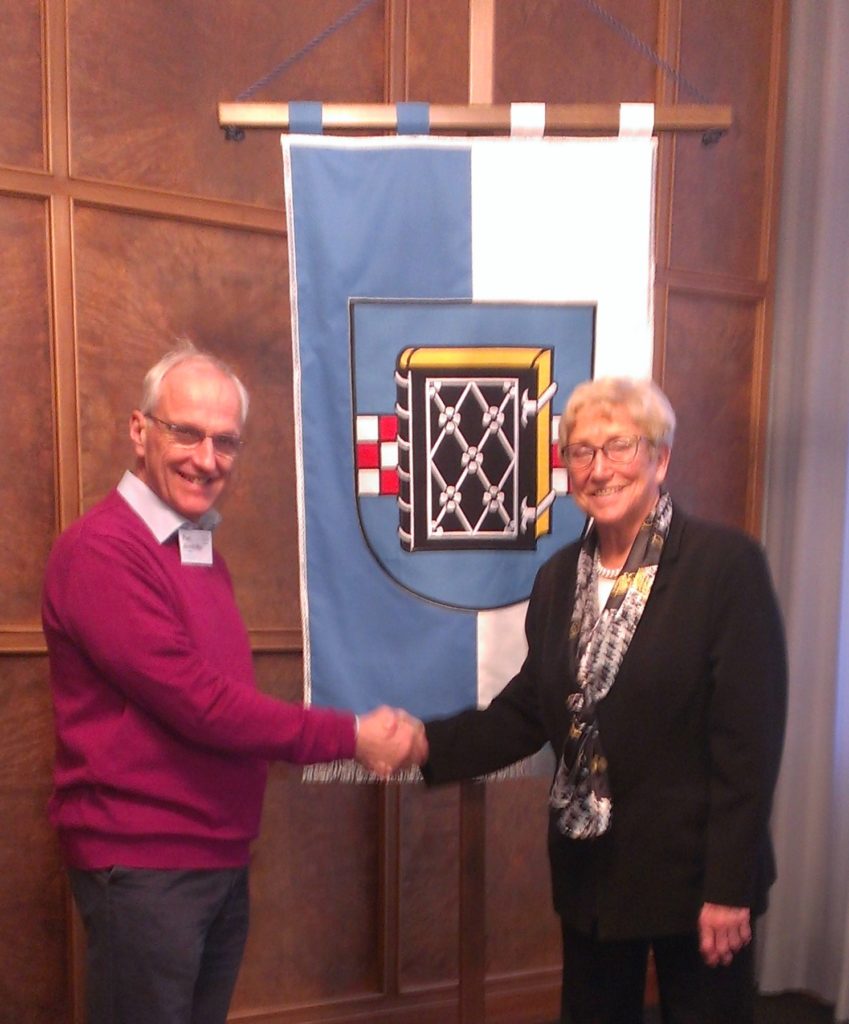 Members of the Chorus visited Sheffield's twin town Bochum in February to sing Handel's Messiah with the Philharmonischer Chor Bochum, accompanied by the Bochumer Symphoniker conducted by John Lidfors. Many stayed with colleagues from the Bochum choir, re-kindling friendships made on a previous trip. They were treated to trips to Bonn and Essen, as well as a number of hostelries and a big party.
But the main event was Messiah in the award-winning concert hall funded by over 20,000 donors and completed following 15 years of fundraising. 'We were bowled over by the concert hall, an absolutely fantastic state-of-the-art building already listed as one of the top ten concert halls in Germany' said Graham Dawson, who organised the trip. 'We've arranged a return trip of course – they are joining us to sing Messiah with the Black Dyke Band in the Victoria Hall on 20 April 2020'
Chorus members visited France last year, singing with L'ensemble Vocal de Périgueux to celebrate the end of WW1. Keen to maintain strong links with their French and German colleagues, the Chorus have invited both choirs to experience the brass version of Messiah for the first time.
'We are thrilled that the Mayor of Bochum acknowledged the importance of our joint venture by presenting us with this picture' said Paul, 'and equally thrilled to be presenting it to Sheffield's Lord Mayor at our concert in November'
The short After Hours session follows the Halle concert in the main hall and features a programme from Scandinavia and the Baltic. 'Audiences will be familiar with the Norwegian Romantic composer Edvard Grieg, but may not be with his countryman Ola Gjeilo, born in 1978, or Eric Ešenvalds, born in Latvia a year earlier.' said Music Director Darius Battiwalla, 'We've chosen a programme of particularly beautiful pieces to sing unaccompanied which will suit the amazing acoustic of the City Hall ballroom.'
Join the Lord Mayor to hear the choir 'up close and personal' on Saturday 9th November at 9.15pm. The free concert ends at 10pm; tickets from the City Hall Box Office, through the hotline 0114 2 789 789, or online via the website.