'A mosaic of joyous sound' 'rousing' and 'gripping dynamics and diction' were some of the superlatives used to describe the singing of Mahler's Resurrection Symphony in the City Hall on Saturday 9 May 2018. As in Edinburgh and Middlesbrough, loud cheers and prolonged applause followed the rousing end to Mahler's second symphony, played magnificently by the Bruckner Orchester Linz. 'The hushed entry of the chorus in the final climactic movement was one of the evening's outstanding moments' – it was certainly enjoyed by the Chorus, who with Leeds Philharmonic Chorus had been put through their paces in rehearsal, conductor Markus Poschner making them repeat the entry seven times until it was as quiet as it could possibly be.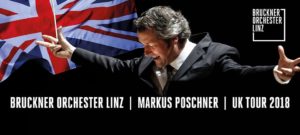 This was the third presentation of the Mahler 2 for the two choruses, with concerts in Edinburgh and Middlesbrough as part of a six-date tour of the UK with Bruckner Orchester Linz and their charismatic new conductor Markus Poschner, one of Europe's rising stars. 'We were so pleased to end our three-concert tour in Sheffield ' said Chorus Chair Paul Henstridge, 'especially since, being local, more of our members and our friends from the Leeds Phil were able to sing – there were over 200 of us on stage!'
"You need a very, very good choir for Mahler's Second," explained Markus Poschner in a recent interview for the Scotsman. The work is truly epic, offering up Mahler's apocalyptic vision of life, death and the hereafter, with 'a huge orchestra with blaring brass (both on the platform and offstage), thumping percussion and massed ranks of cellos and double basses well to the fore'.
The 200-year old Bruckner Orchester Linz, the second largest orchestra in Austria, is pleased to be working with conductor Markus Poschner, one of the rising conducting stars on the continent, making significant waves in Germany and further afield. They were joined on the tour by two wonderful soloists, soprano Brigitte Geller and Theresa Kronthaler. But 'It was [the Chorus] who brought the piece to its rousing conclusion and who, with chorus master Darius Battiwalla, received their well-deserved share of the prolonged applause.'
REVIEW – 'Four Stars' – Miranda Heggie – The Herald Scotland
REVIEW – 'Assertive Mahler' – Simon Thompson – Seen and Heard International
REVIEW 'A triumph' – Nachrichter
REVIEW – ' Markus Poschner's musical vision' Elizabeth Rathenbock, Krone