Fr.
Trois Concerts de musique chorale
L'Eglise Saint Thomas, Excideuil Vendredi 13 juillet 19h 30
Le Cathedral at Perigueux on dimanche 15 July, avec l'ensemble vocal de Périgueux and L'ensemble vocal Arnault de Mareuil, 16h 00

et Lundi 16 juillet 21h 00 eglise St Astier
L'entrée est gratuite, mais la chorale accueillerait une contribution à ses frais, au moyen d'un don au chapeau signifiant Au chapeau, à la sortie (suggéré 20 € par personne)
Dimanche 15 julliet, le Cathedral Saint-Front, Perigueux avec deux chœurs français, 16h 30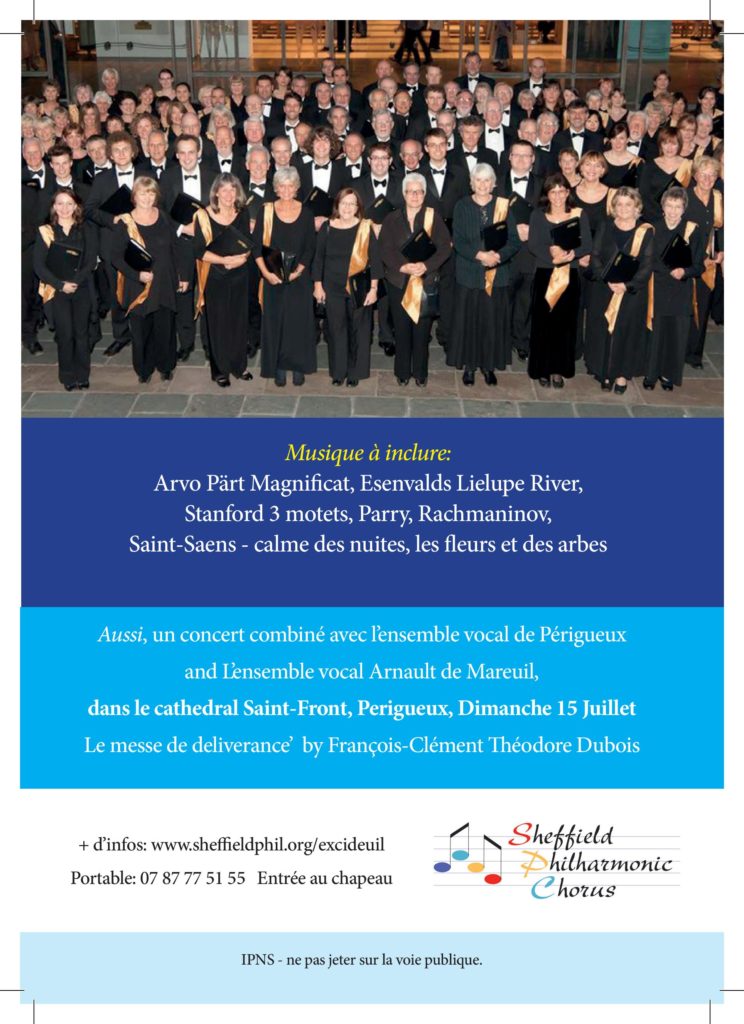 A5 leaflets(OUTSIDE) Final for website downloadable
Membres du Sheffield Philharmonic Chorus (Royaume-Uni) et organiste
Chief de Chœur & l'orgue, Darius Battiwalla
site web et détails  www.sheffieldphil.org/excideuil
(+33) (0) 7 87 77 51 55
+44 77 199 28402

Promoteur, Matthew Morgan +44 77 199 28402  +33 787 77 51 55 (Bass II, Le Sheffield Philharmonic Chorus) 10 Rue Du Lavoir, 24160 St. Martial d'albarede, France
Transport par Autocars Cournil, Thiviers
En.
On the long weekend of July 12th – 17th, 46 members of the Sheffield Philhramonic Chorus will be on a Tour de France in the Dordogne, South West France
The will perform two solo concerts with mostly unaccompanied music, and a piece on the organ by their musical director, Darius Battiwalla. The concerts are on Friday 13th, at the Church in Excideuil (24160), starting at 19.30
The second concert being at the Church in St Astier (24) at 21.00
Entrance is free, but the choir would welcome a contribution to it's expenses, by way of a donation "au chapeau" meaning In the hat, on your way out (suggested €20 per person)
The main reason for the tour is to join two French Choirs and orchestra in a joint performance on Sunday 15th in the Cathedral of Saint-Front, in Perigueux (24) at 16.30, where they will perform La messe de délivrance par François-Clément Théodore Dubois, which comences with a specially composed Trumpet Fanfare by Trumpter Player and composer Philip Singleton and a selection from Brahms Requiem.
Music for Phil Only Concerts:
Esenvalds: Lielupe River
Part Magnificat (Solo: Boo Spurgeon)
Organ solo: Bach: Fantasia & Fugue in C minor BWV537
Saint-Saens: Two Choruses
Calme de nuites
Les fleurs et des arbre
Rachmaninov: from Vespers
6: Ave Maria
13: Today salvation has come to the world
Interval
Parry: From Songs of Farewell: My Soul, there is a country; Never weather-beaten sail; There is an old belief)
Tippett: From Child of our Time
Steal away
 Nobody knows
Go down, Moses
Organ solo (in Excideuil): Mendelssohn Sonata 3 in A major ((i) Con moto maestoso (ii) Andante tranquillo
Organ solo (in St Astier): Fela Sowande
Stanford: Three motets
Justorum animae
Coelos ascendit hodie
Beati quorum via
For Perigueux
Dubois
Messe de delivrance
Brahms Requiem
 3, 5 & 6