30th April 2018
'Pretty special', 'blazing' and 'a triumph' –  so thought critics at the Mahler 2 concert at the Usher Hall in Edinburgh on Sunday 29 April 2018. 'The combined choruses of Leeds Philharmonic Chorus and Sheffield Philharmonic Chorus opened with a soft yet supported sound and displayed a majestic power for the final bars' The audience clearly agreed, many cheering and leaping to their feet once the final tumultuous chords had died away.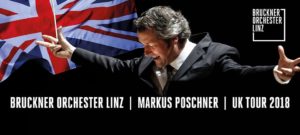 The two choruses had travelled up to Edinburgh to join the Bruckner Orchester Linz for the first concert in a six-date tour of the UK with their conductor Markus Poschner, one of Europe's rising stars. 'Chorus members always fall over themselves to sing this glorious work' Chair Paul Henstridge reports, 'but three times, with our friends from the Leeds Phil, along with such a maginificent orchestra and exciting conductor – we can't believe our luck!'
Luck doesn't come into it though. "You need a very, very good choir for Mahler's Second," explained Markus Poschner in a recent interview for the Scotsman. "We had the idea: could we join up with British choirs in a sort of joint venture? The best choirs are in Britain anyway – everyone knows that." The work is truly epic, offering up Mahler's apocalyptic vision of life, death and the hereafter, with an extended orchestra and almost 200 singers.
Mahler took his first professional conducting job just south of Linz in the summer of 1880, making the involvement of the 200-year old Bruckner Orchester Linz particularly relevant. The orchestra's conductor Markus Poschner is one of the rising conducting stars on the continent, making significant waves in Germany and further afield. "We spent a lot of time creating our own interpretation of the Mahler 2, and we wanted to share it more widely."  he explained.
The concerts in Edinburgh, Middlesbrough were sold out, as is the performance at the Cadogan hall on Thursday; tickets are selling fast for the other venues. The Northern leg of the tour concludes at Sheffield City Hall on Saturday 5 May; tickets  are available online and via the City Hall box office.
REVIEW – 'Four Stars' – Miranda Heggie – The Herald Scotland
REVIEW – 'Assertive Mahler' – Simon Thompson – Seen and Heard International
REVIEW 'A triumph' – Nachrichter
REVIEW – ' Markus Poschner's musical vision' Elizabeth Rathenbock, Krone